Video Content Ecosystem
09 Jul 2018
I just wanted to share a little system with you that I use to 10x my content on a regular basis and leverage it.
It's called the Video Content Ecosystem.
Here are the steps and the flow diagram to help explain it:
STEP #1
Record a FB Live Video around a topic title and 5 bullets no more than 5-10 minutes long
STEP #2
Go to your FB page, click videos on the left-hand menu and then 'manage videos'.
STEP #3
Download the HD version of whichever video(s) you want to re-purpose.
STEP #4
Upload the video(s) to YouTube and/or Vimeo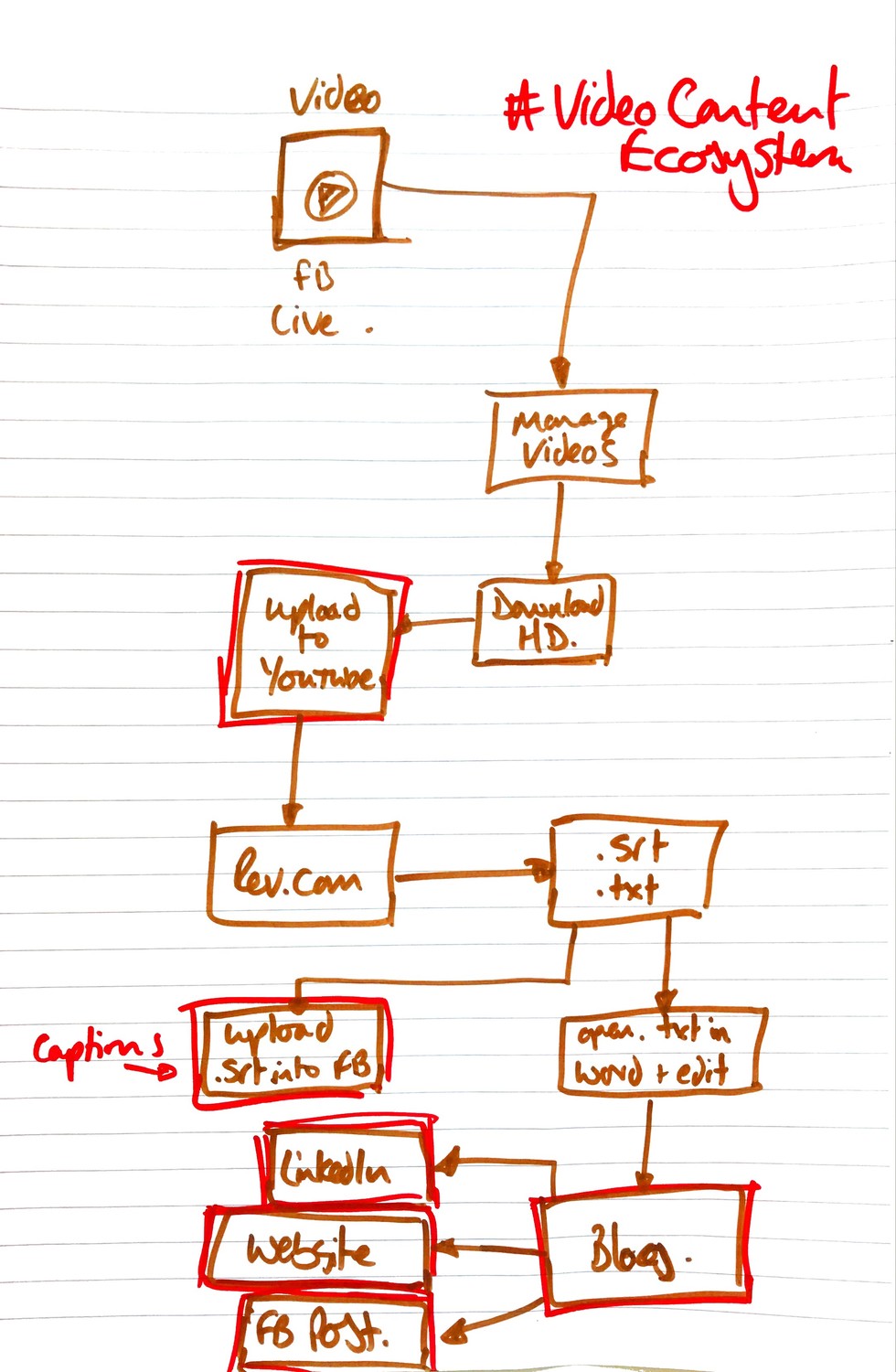 STEP #5
Set up and account with Rev.com and link up your YouTube/Vimeo account with Rev.
STEP #6
Order captions of your chosen video(s) via Rev including the .srt, .txt and .vtt file formats.
STEP #7
Upload the caption files to FB. This is usually the .srt version of the file. If you've hooked up Rev to YouTube/Vimeo it will automatically publish the caption files to those platforms.
STEP #8
Open the .txt (transcript) file using Word or Google Docs. Post edit the file and split it out into appropriate headings and paragraphs.
5 mins of audio/video dictated normally equates to about 500 words once edited - i.e. about the size of a good blog article.
STEP #9
Run it through Grammarly to check to spelling and grammatical errors (if you register for the free trial and wait a couple of weeks they'll send you a 50% off an email...eventually).
STEP #10
Re-post your new blog article as an article on LinkedIn, on your website blog and into a FB post (alongside your video). You can embed the video inside the post as well if you want to for extra SEO credits.
>>> BONUS TIPS
#1 - Send this process to your VA and get them to do it for all of your videos to save yourself even more time!!
#2 - The .vtt file is useful if you're creating an eLearning program on say Udemy, you've got the caption files ready for that platform then.
#3 - Plan out a chapter list at the start and do this x30 and you've got yourself a book!
CLIENT SUCCESS!! Watch THIS >>>
Client Success - Case Study